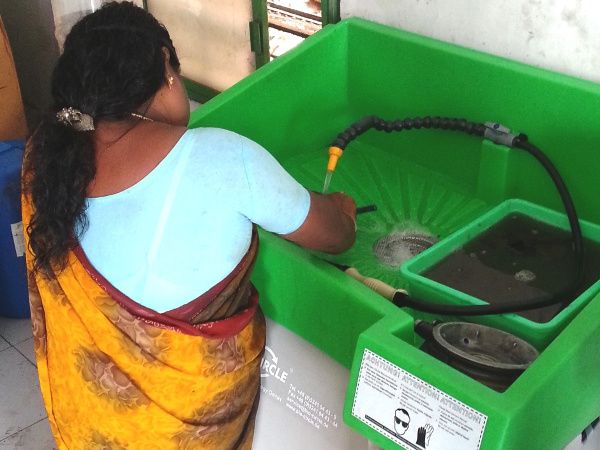 Bio-Circle Surface Technology GmbH produces innovative biotechnological alternatives for cleaning, welding, lubricating and protecting processes in the metal working industry. The company emphasizes environmental compatibility and produces water-based cleaners, non-toxic lubricants and technologically advanced cleaning systems that reduce energy consumption and health risks of workers in the metal industry.
India's metal working industry is constantly growing just as the usage of toxic solvents, lubricants and cleaning materials. A lack of knowledge about possible side effects for workers and environmental damages caused by conventional cleaning products is characteristic throughout the industry. New technologies such as closed systems for chemical usage or biodegradable cleaning materials are widely unknown.
With the PPP-project Bio-Circle increases awareness for environmentally friendly cleaning processes within the metal industry. This ensures workers safety and reduces operating costs. Together with its joint venture partner in India, Bio-Circle trains "Industrial Cleaning Experts", supports courses at industrial training institutes and raises awareness through mobile cleaning units. An implementation at pilot plants provides the platform for a practical demonstration of saving potentials through advanced cleaning systems. Through practical demonstrations both company managers and decision makers in charge of regulation are sensitized for alternative cleaning techniques.

WiN

=

WiN

effects
The PPP-project creates awareness about hazards of conventional products used in India's metalworking industry and presents alternative solutions. From the implementation of alternative cleaning techniques benefit both workers and environment. The usage of modern technology reduces energy consumption, saves resources and costs.
For Bio-Circle the project offers the chance to create awareness about the dangers of traditional methods and to position itself with advanced products in a market with high growth potential. With support of the project Bio-Circle can provide a practical and affordable solution for existing industry challenges and presenting it to relevant decision makers on a broad scale.