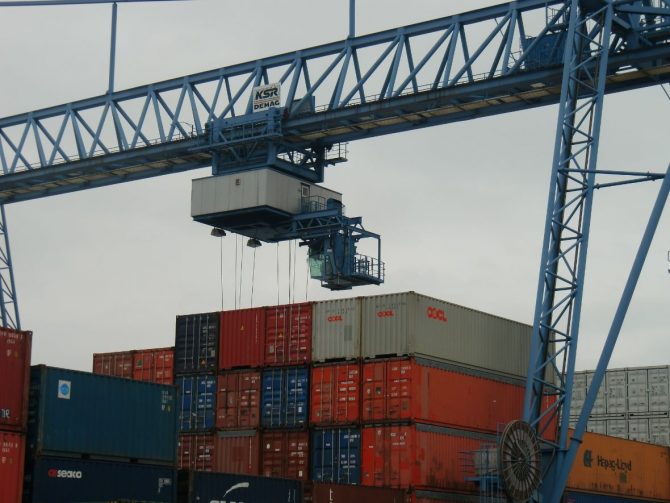 Kirow is the global market leader for railway cranes and slag port carriers, Ardelt for double jib cranes. Both are part of a crane union, an association of three crane manufacturers who have specialized on lifting and transporting heavy loads in the areas of railway, port, shipyard and steel mill.
Sine 1998, Kirow Ardelt has steadily increased production of harbour cranes in Vietnam. These cranes are produced mostly for the Asian makret. In 2002, 25% of worldwide sales of Kirow Ardelt have already been achieved in Vietnam. This is particularly due to the great growth prospect of the emerging Vietnamese market. The export volume has also increased steadily. Another benefit of the region is the development of the largest iron ore mining area in Southeast Asia. The port infrastructure on the other hand lags behind the rise of exports. The outlook on the sales volume of cranes in Vietnam is therefore splendid. However, there is a lack of skilled workers for the construction of heavy machinery. This lack particularily affects the areas of milling, cutting, welding and surface treatment. Also, the production management and construction planning in the crane industry are weakly developed. So is awareness for environmental protection and occupational safety.
The PPP project aims to improve quality in heavy machinery construction and crane building through workshops and on-the-job trainings in two partner companies and for three target groups at different stages of the production chain: external specialist engineers, foreman at Vietnamese partner companies and skilled workers.

WiN

=

WiN

effects
Vietnam can assure the long-term protection of this locational advantage only by increasing the efficiency in production and raising the overall level of quality. Through the transfer of know-how to expert teams, local engineers are put in a position to control and manage the production of complex heavy machinery according to German standards. Trainings regarding energy and resource efficiency as well as cooperation with local authorities concerning occupational safety complement the knowledge transfer and help to raise awareness for these topics.
At the same time, Kirow Ardelt can ensure a high quality in production and can also maintain a high level of brand awareness through the training. The qualification of skilled works supports a further shift of crane production to Vietnam to address the rising demand in emerging Asian markets. Furthermore, cost savings are realized through energy and resource efficient production processes and potential downtime and abseenteism of the workforce is reduced thanks to labor protection.