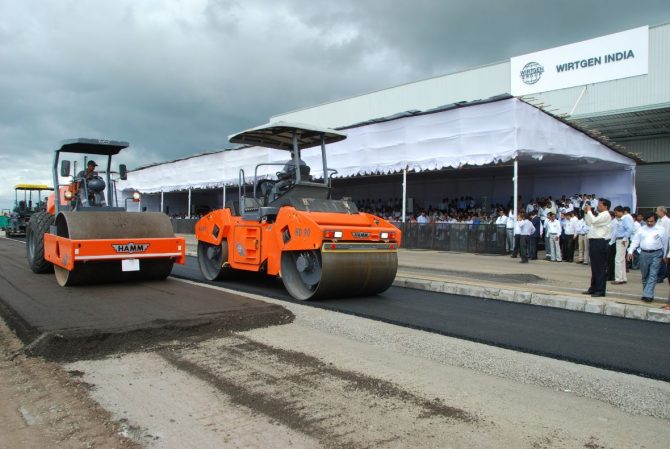 Wirtgen has been a pioneer regarding innovations on construction sites for their customers for more than half a decade. The Wirtgen GmbH offers a complete range of mobile machines and high-quality services for road construction.
India's infrastructure is in many fields in poor condition. Broken roads and motorways and the lack of electricity are just a few problems. In order to improve the infrastructure, the Indian government will invest large sums in road construction in the next few years. The so called "National Highway Development Program" includes 200 projects and some 13,000 km of highways. Wirtgen is involved in the implementation of this program and the development of numerous roads. However, since there is a lack of experts and sufficiently qualified personnel in the Indian road construction industry, the realization of the program has become a major challenge. Wirtgen has been forming professionals for many years and has constructed its own training centre for mechanics and machine operators in 2011 in Pune.
The aim of the PPP-Project is to train professionals beyond the personal need of Wirtgen. The level of qualification of workers in road construction is increased. Furthermore, awareness in the public sector for new methods, technologies, quality standards and energy efficiency is raised. The PPP project includes workshops for the public sector and training courses for students of the Industrial Training Institute. Moreover, some of the graduates receive a one-year training at the Wirtgen Group and 60 additional training places will be provided by partner companies of Wirtgen.

WiN

=

WiN

effects
The employees of road construction companies and other participants in the training courses benefit from the transfer of knowledge. A higher level of education increases the chances of a better income and lead to greater professionalism in the construction industry. The decision makers in public authorities benefit from the know-how in all areas of road construction and carry them projects more cost and energy efficiently.
Wirtgen establishes latest technology in India that considers energy efficiency and environmental aspects introduces a wholly new use of resources and materials. The PPP-Project makes a significant contribution to realize the national infrastructure program. The project also allows Wirtgen to draw from a wider range of experts and trained personnel and strengthens its position in the market.