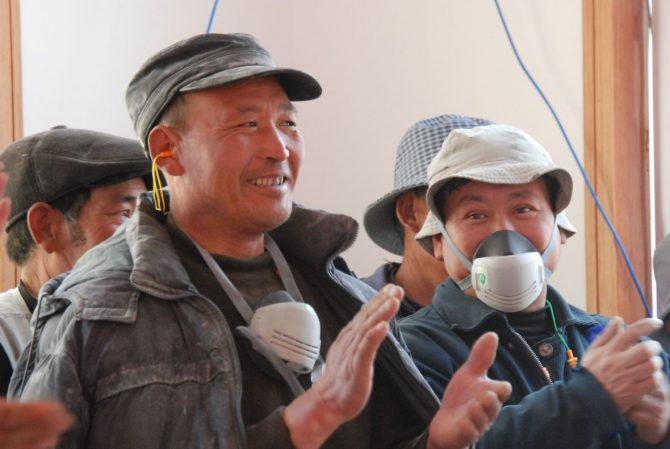 A. Tschümperlin AG produces concrete materials for construction since 1918. Two proprietary plants supply the Swiss company with premium quality products. Since 2009 the family owned company trades in Chinese natural stones and demands the same high ethical standards they already require in all of their other business divisions. To ensure compliance with these standards, A. Tschümperlin AG is a partner of WiN=WiN Fair Stone.
Chinese Natural Stones are up to 50% cheaper than Swiss stone products. However, local production conditions do not correspond to European standards. The high dust exposure leads to work-related diseases such as silicosis. Extraction systems are barely known and improper safety measures prevail. This and workers lack of understanding of the need to use personal protective equipment (PPE) leads to preventable accidents and constitutes a general threat to workers health.
A. Tschümperlin AG, as a partner of Fair Stone, commits itself to support its suppliers in the process of continuously implementing improved working conditions. Two pilot factories receive training on occupational health and safety. An incentive scheme is created to ensure that workers wear PPE. Further improvements of overall working standards are established, e.g. through the acquisition of new machinery. In addition, focused outreach measures in China and Europe will promote the WiN=WiN Fair Stone standard way beyond the pilot factories involved.

WiN

=

WiN

effects
WiN=WiN Fair Stone is committed to a continuous improvement of working conditions in the natural stone sector, in accordance with ILO core labor standards. These provisions ensure a safe workplace for approximately 100 workers in the pilot factories. Outreach measures enable a further distribution of the standard from which many more workers will benefit.
The PPP-project enables A. Tschümperlin AG to audit its registered suppliers earlier than anticipated. Some Swiss public procurement projects already ask specifically for proof of social compatibility of the purchased stones. Additional customers will be sensitized through the intensified communication efforts of the Fair Stone program.